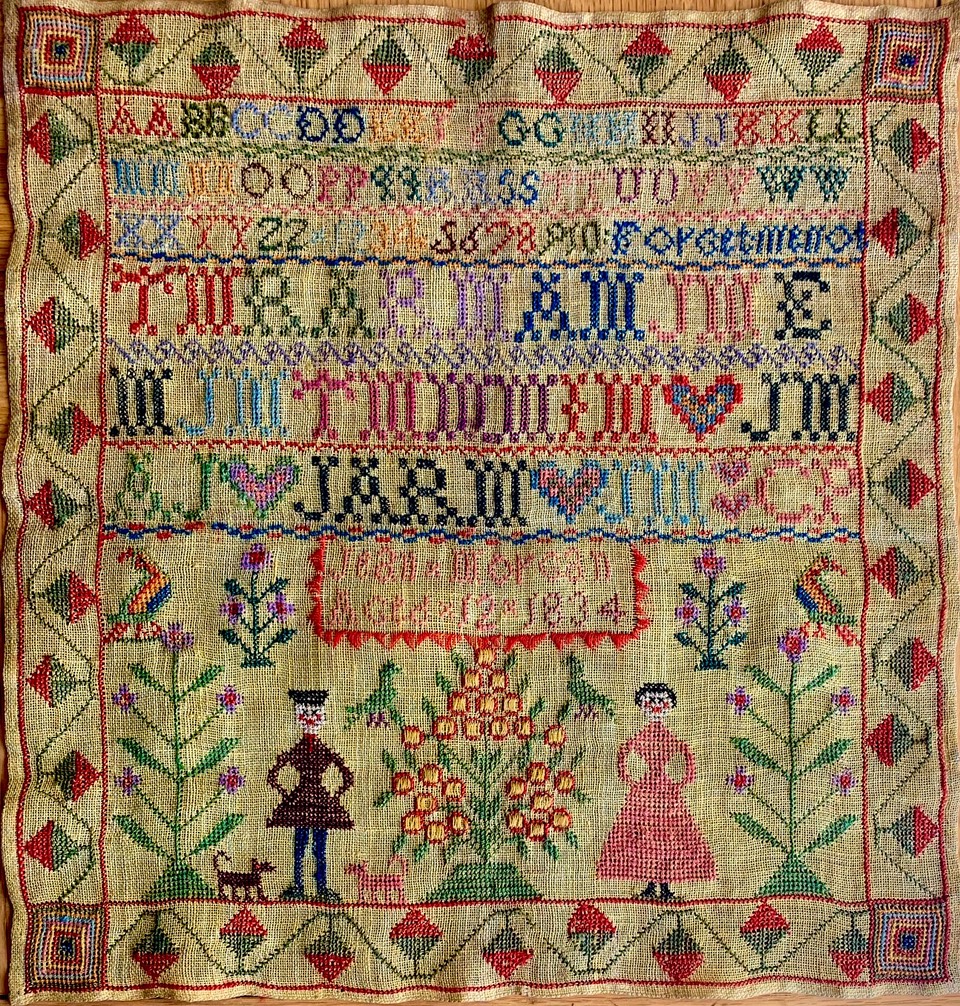 We are thrilled to announce our 2019-2020 Stitch Along with Needlework Press! We don't even want to say, nor can we exactly remember, how long this has been in the works, but we absolutely adore Vickie and Maegan, love their samplers and we are ecstatic to have it all finally come together!  Working long distance with Vickie and Maegan, we selected a sampler that we hope you will love as much as we do! We love to support Vickie and Maegan, who have long been supporting our love of samplers.   We hope this begins a long and happy partnership!
Click here for the registration form!
The Sampler:
Jean Morgan, Age 12, 1834 is a delightful sampler with elements that will continue to emerge as you study the chart.  Vickie believes, for a variety of reasons, that the sampler was folded, tucked away and only recently saw the light of day.  Colors are as vibrant on the front as on the back, even on the hottest setting, the folds refuse to iron out.  Vickie and Maegan are certain the 12-year-old would be thrilled to know we are recreating her folksy sampler today.
With a stitch count of 205W by 210H, the antique measures 16"W x 17"H.  We are offering 4 counts of linen, 28 (which would be pretty close to the 26/25 homespun linen the original is stitched on, 32, 36 and 40 count.  After much agonizing with Vickie, Maegan, and our SAL leader, Karin Zieren, we batted several options back and forth, and color copies and computer screens didn't make it any easier!  We finally all agreed that Weeks Dye Works Straw is the best match.  The 32, 36, and 40 counts will be dyed on a Zweigart base.  The 28 count cannot be dyed on the Zweigart. 
·      Chart is $18.00
·      32, 36, and 40 will all be a minimum of 17 x 17 linen cuts 
o   32 count $16.50
o   36 count $18.00
o   40 count $19.50
·      28 count ---because of the sampler size, only a fat half will work…but you'd have great leftover linen to create fun smalls from motifs in the sampler
o   28 count fat half $49.00 (Weeks does not generally dye 28, but will do so for us for this project)
The threads are a mixture of Weeks Dye Works and Classic Colorworks cottons.  There are 14 skeins (we are including 2 of the Ruby Slipper, as it is predominant throughout…depending on your individual usage, you may want to order more.)  As this design has NEVER been reproduced, this is a guess.  We are getting you started with what we know. J
·      14 skeins (2 of Ruby Slipper) $35.00
You may sign up for any combination of chart, linen, and/or threads. For those who order a complete kit from us, we will also include a small thank you gift as a token of our appreciation.  Karin Zieren, will be our fearless leader.  It is our hope to have the SAL begin by the end of October, to give Karin time to dive into the sampler and us time to get supplies dyed and to us so we can get them to you.   We will have a closed group on Facebook for those of you who sign up for the SAL. There you will be able to chat and discuss your progress.  We will also have a dedicated SAL email list, where we will share Karin's lessons/comments.  This should accommodate all who are not on Facebook, albeit without the chat feature. We are leaving it to Karin to determine the sampler "lessons" over the next year.  The design is ours exclusively during that time so you and any friends may join at any time throughout the year.  However, if you want to start with the majority, we encourage you sign up now, as we need to get supplies ordered and shipped to you for an end of October start.
_______ Yes, sign me up! Here's my info:
Name: _______________________________________________________
Email address: _________________________________________________
Phone number: ________________________________________________
Mailing Address: _______________________________________________
City/State/Zip: _________________________________________________
Credit Card: Sorry, no AMEX and no PayPal
·      Number: ________________________________________________
·      Expiration Date: __________________________________________
·      CVV Code: _______________________________________________
I want:
·      __________    Chart    
·      __________    Linen (specify count choice --- see above choices)
·      __________    Thread set (14 skeins, 2 of Ruby Slipper)
Call us, email us, mail us, or drop off registration to:
Tomorrow's Heirlooms
20 N Park Boulevard
Glen Ellyn, IL 60137
630-790-1660